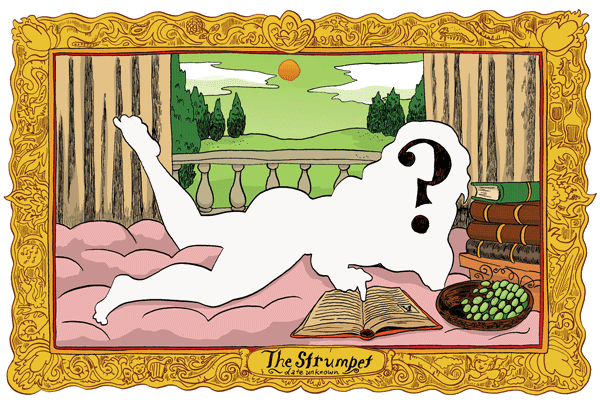 Mystery Strumpet as Seen By The Oval Mistress, date unknown.
Hey there Whores fans!
Over the past few month, Whores of Mensa has been having something of an identity crisis. We've been doing a lot of soul-searching and introspection; really questioning who we are. A lot has changed for all of the Whores of Mensa since we first started this comic - but where are we going? What are we trying to achieve? What does it mean to be a Whore of Mensa? And how can we grow, while maintaining that identity?
To reflect on our self-reflection, we'd like to open this out to our loyal readers in the form of a WoM Competition! We want you to get in touch with us and answer the question:
What is a....strumpet?
Sure, we know the
dictionary definition.
But what does Strumpetism mean to you?
You can write, draw, photograph or mix all three- either create your own strumpet, or pick a famous loose lady from history! All work will be published on the Whores Blog, and you could be in for a chance to win one of the highly desirable and much coveted WoM T-shirts! We've got three, yes, THREE! to give away, so grab your pencils, typewriters and cameras and get cracking!
And as for us, well, let's just say that great change is afoot...but we need your inspiration to make it happen. Your deadline is 31st July - thanks in advance for giving this a go!
Whores of Mensa Apprentice Elliot
http://surrealistetiquette.blogspot.com/