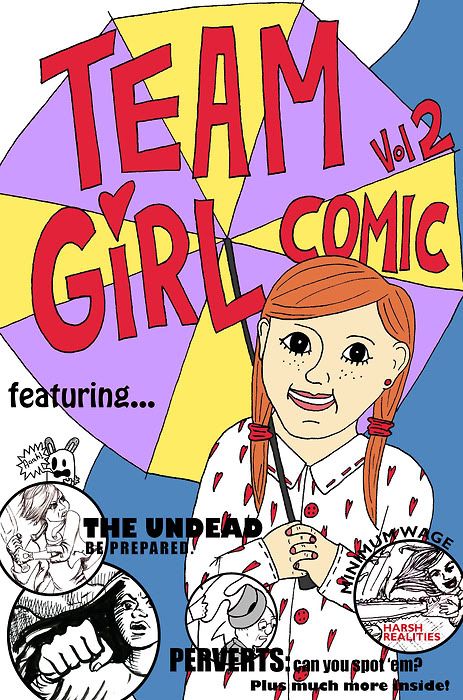 As you may have seen in a prior post, I recently made an awesome discovery - the world of Scotland's Team Girl Comic. Edited by Gill Hatcher, a talented draughtswoman in her own right, Team Girl Comic unleashes the storytelling powers of a cool crew of young female cartoonists on an unsuspecting UK comix scene.



Tell us about yourself. Who is Gill Hatcher?
I'm 23 and originally from Wishaw, one of the greyer parts of North Lanarkshire. I used to draw comics just to entertain my school friends, and then when I left school I started meeting people involved in the Glasgow small press comics scene. About 4 years ago I got the confidence to start photocopying and selling my work, and this evolved into Team Girl Comic. I haven't been to art school, I studied product design which suited me because I enjoy both art and science. And now I'm doing a PhD which really suits me because it gives me the flexibility to work on comics as much as I need to!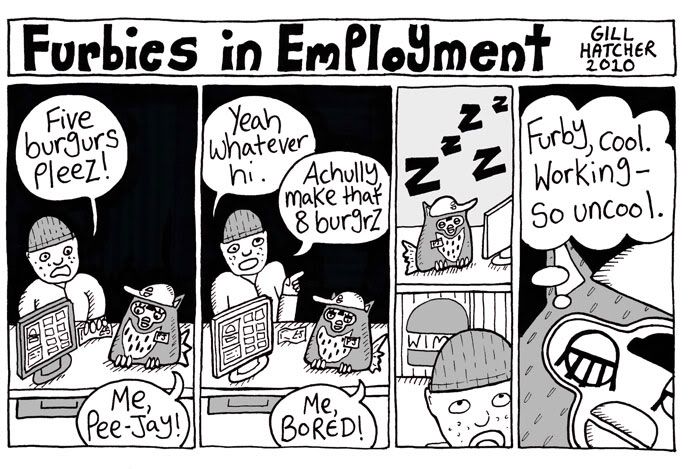 Art by Gill Hatcher.


I've got quite big aspirations for TGC, and if I can find a way to live off making and promoting comics I'll do it. The thing that's so exciting about comics is that is it's one of the few artistic mediums that still has so many unexplored avenues, there's still huge scope for innovation. I think this is only just being realised, I've noticed a real boom in alternative comics and graphic novels in the past few years. It's a good time to be involved.


How did Team Girl comics get started?


The group properly got together about a year ago. I had been self publishing my own comics for a few years beforehand, just photocopied booklets, but was feeling a little isolated. So I decided to try and find other female cartoonists in Glasgow to work with. At first I couldn't find any! But from talking about the idea with people around me I realised I actually knew quite a few people who were drawing in their spare time but had never publicised their work before. Secret cartoonists! And there's my younger sister and cousin in there too.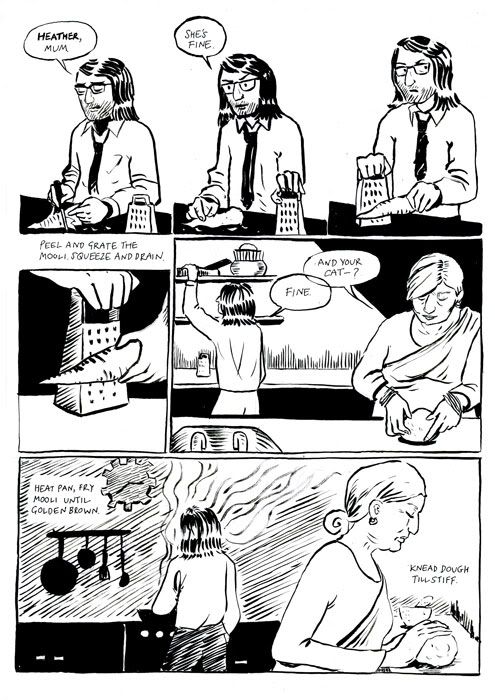 Art by Heather Middleton.


That's how the all-inclusiveness concept around Team Girl Comic emerged. We started work on our first comic book, and fortunately word got round and some other cartoonists got in touch about joining in. We've managed to double our numbers between the first and second issue, and I hope that we can keep growing and build up a real network of varied artists.


Not everyone has the ambition to be a professional cartoonist. We range from fine artists to manufacturing engineers to schoolgirls still unsure about what they want out of life. And then there's a few of us like me, juggling a double life of comics and 'career'! The key thing about Team Girl Comic is that it's supposed to be fun. Anyone is welcome to give it a go.


What's your editorial process like? How do you choose which stories to print?


Well so far, as we're just starting out, everything submitted makes it into the comic. I've not yet had to deal with an unsuitable submission, especially since I want the comic to be as varied as possible. Story-wise, the comics can be about anything: politics, autobiographical, daft animals, and just because we're an all-female group doesn't mean the comics have to be 'girly' either.


What kinds of comics do you read?


I can't speak for everyone but I mainly read what I guess you'd call 'alternative comics', one of my biggest influences is Mark Beyer's Amy and Jordan strips, and I'm also a fan of artists like Peter Bagge, Julie Doucet, Dame Darcy and Simone Lia. I have to admit I'm pretty ignorant of superhero comics and manga, they've never interested me, although when you say you're into comics that's what most people assume you're talking about. I grew up reading Twinkle, The Beano and Tintin and I still love kids comics. Right now I'm loving a lot of the DC Comics' Minx books, their range of comics for teenage girls. And of course Peanuts is always a comfort and a joy to read.


Where can we find your work?


(In terms of in-person sales) I'm sure there will be loads of events in the next year, we'll keep everyone posted. Team Girl Comic is available to buy from comic, music and book shops in Glasgow, Edinburgh, London, Manchester, Liverpool and Birmingham (so far!). The full list is on our blog, and you can order a copy from there too.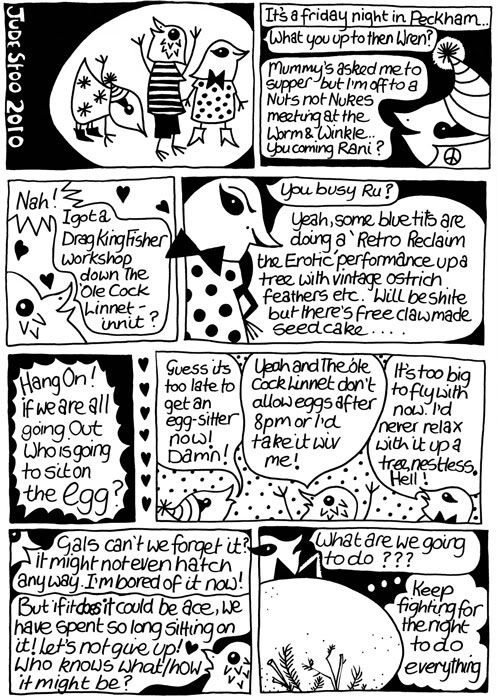 Art by Jude Stoo.


Are you working on any additional projects?


I've just finished a solo project that resulted in Go Wildlife Comic, a similar format to TGC with stories about wildlife that I tried to make both entertaining and informative. Kakapos, buffalos, sea otters and the like. I also took part in 24 hour comic day this year and came up with a 24 page story called 'The Bearoplane', so I'd like to do something with that soon. My next project besides Team Girl Comic 3 is going to be a kids comic, but that's just at the planning stage right now.


It's clear that there's a great comics scene in Glasgow. Who else should we be checking out?
Glasgow is a pretty good place to be if you're making comics, there's a growing community here that's a mixture of professionals and people like me. Big titles like Batman and Superman are drawn in Glasgow, and although that's not really my kind of thing it's an encouraging environment to be in. There's also quite a few independent shops, such as Monorail Records, Love Music and Plan B Books that are supportive of small press comics. I still think the scene's a little more fragmented than I'd like it to be, so I'm glad Team Girl Comic has managed to bring together at least some of the female comic creators in Glasgow!


Our main contemporary is Khaki Shorts, or 'Team Boy Comic' as I like to call them, Glasgow's (probably) longest running small press anthology at 11 years in the business. I'd also recommend people check out Scheme Comix by Kev Harper if you like drama, Toastycats by Magda Boreysza if you like dark tales and John Miller's Atomic Society of Justice if you enjoy being baffled by Jimi Hendrix detective comics.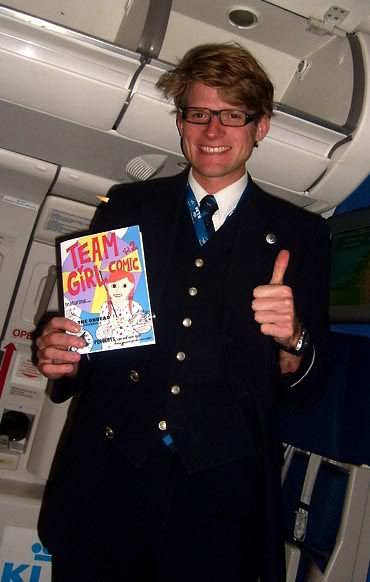 Team Comics garners an endorsement...


What are your plans for Team Girl 3?


It's a lot of work bringing the comic out on a regular basis, between managing all the contributors, drawing your own pages and selling and promoting the previous issue, so at the moment I'm aiming for two issues per year, at least. Team Girl 2 still has a fair bit of steam left in it so it will be early next year before we see the third issue. At the moment we've got about 15 or so artists in the loop, including even more new people since last time so I've got high expectations. I'm especially excited about the possibility of seeing a comic by our youngest contributor yet and seeing the next steps of some of the new characters that have emerged from the first two issues.



Thanks a lot, Gill! Be sure to follow the ladies on Twitter - they're @TeamGirlComic - and visit them on Facebook. And look out for the ladies and their comics - especially Team Girl Comic 2, out now!