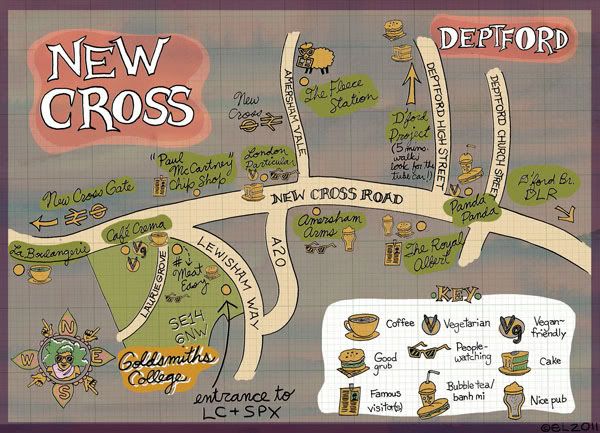 I'm very excited, because this weekend the London Comic and Small Press Expo is coming to New Cross!


New Cross is also the home of the Fleece Station, the studio I've shared for the last year-and-a-bit with Gary Northfield, Lauren O'Farrell and Sarah McIntyre.


Here's a map of some places I like in New Cross, or that have been recommended to me - New Cross high street can look very forbidding, but there are a few real gems, and if you get into Deptford - well, everyone's got to experience Deptford just once. Especially now that you can get bubble tea on the way in!


Some quick notes: Meateasy is FAB for greasy American diner food (exactly what you came to New Cross for, I imagine) - but it's only open after 6, and the waits are almost as legendary as the chili dog. If you're serious about checking out London's most talked-about popup restaurant, get there before 6.


Personal fave Panda Panda, purveyor of amazing banh mi (Vietnamese sandwiches) and bubble tea - is legendary if you read Sarah's blog - they're also open until 9, so if you get a chance, give them a try. (I haven't given them a coffee icon - they sell too many good things to represent visually - but their Vietnamese coffee is amazing!)


One thing I haven't covered: transport. New Cross is accessible by rail, Overground and loads and loads of buses - too many to cover here! Check out the London Transport Journey Planner instead.


Please let me know if you have any questions about my map - there's a bigger version here - and hopefully, I'll see you at the show. Look for me at the Fleece Station table - I'll have Undertow, Whores of Mensa, and some great little prints Sarah and I have done just for the show.


See you there!